Realizing Towns that Can be Lived in Comfortably:
Welcome to Hiroshima Chuo Ecopark
A facility with excellent resourcecirculation/
energy use
A facility serving as a base for environmental study
A facility combining nature with the local community
A facility serving as a base for disaster response/prevention
Hiroshima Chuo Ecopark is a facility that treats waste from Higashi Hiroshima, Takehara, and Osakikamijima.
We strive to be a base for an advanced material-cycle society by building a zero reclamation system.
A facility with excellent resource circulation/energy use
We use energy generated in the melting process effectively for power generation, selling surplus electric power and utilizing it efficiently.
Also, the waste is converted into recyclable materials, resulting in a zero reclamation system.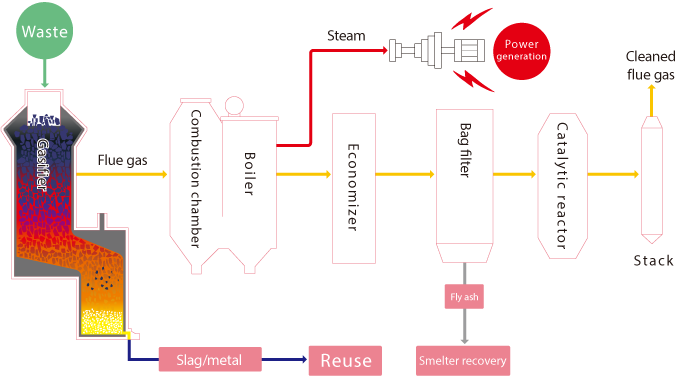 Thermal energy use
We use thermal energy generated by waste treatment to generate power. This leads to a reduction of the fossil fuels needed for thermal power generation and a decreased burden on the environment.
Zero reclamation
We achieve a zero reclamation by melting and reusing bottom ash and incombustible residue generated by our stoker incineration method.


Reuse of molten materials (slag/metals)
Melting waste at a high temperature decomposes dioxins and removes heavy metals, so all materials are reused as harmless, safe molten slag in a sand form and metal.


Smelter recovery (valuable metals)
Smelter recovery is a technology for extracting and recovering lead, zinc, copper, and other valuable metals from molten fly ash discharged from the waste treatment facilities of nonferrous metal manufacturers' smelters.
Facility outline/Treatment procedure
High-Efficiency Garbage Power
Generation Facility
Facility outline
Materials processed

Combustible waste, etc.
Processing capacity

Maximum 285t/day (95t/day × 3 furnaces)
Processing method

Gasification melting, shaft furnace type
Power output

6,500kW (maximum)
Treatment procedure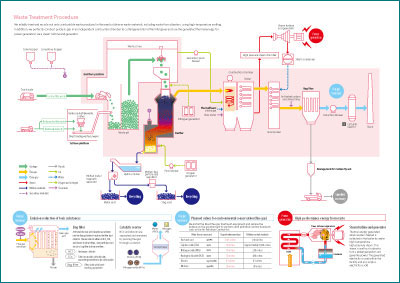 Sludge Recycling Processing Center


Facility outline
Materials processed

Night soil/septic tank sludge/agricultural community waste water sludge
Processing capacity

300kL/day Night soil: 53kL/day, septic tank sludge: 247kL/day
Processing method

Water-treatment facilities: denitrification treatment method with a high mixture ratio of septic tank sludge + effluent sewerage Reuse facilities: sludge combustion-improving method
Treatment procedure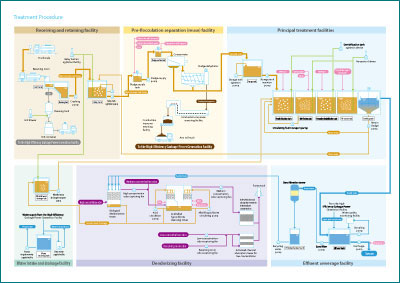 Company overview
Company name

Hiroshima Chuo Clean System
Founded

January 25, 2017
Location

10759-2 Kamiminaga, Saijo-cho, Higashi Hiroshima, Hiroshima
Purpose

Operation and maintenance of waste treatment facilities and other facilities related to the Hiroshima Chuo Ecopark development project (construction and operation of the High-Efficiency Garbage Power Generation Facility), and related work incidental thereto
Outline of construction